Industrial Manufacturing
Ja‐Co Welding has a wide range of services to ensure we can meet all of our customer's needs. We are constantly evolving with the latest technologies and welding procedures. Our CWB certified locations can manufacture endless products. With state of the art equipment in our Machine Shop we have broadened our horizons and expanded our clientele. Ja‐Co Welding offers complete steel processing capabilities along with custom cabinets and tanks.
Custom Welding & Fabrication
At Ja‐Co Welding we pride ourselves on staying current with the latest technologies and welding processes in the industry. Our applications include Pulse Tig and Aluminum or Stainless Mig Welding. With our advanced equipment, our capabilities are vast. Ja‐Co Welding has manufactured items such as forks, welding decks, horse stables and frost buckets.
Structural Steel Fabrication
Ja‐Co Welding is a Canadian Welding Bureau certified company, ensuring all of our Welders and Fitters are certified. We retain a Structural Engineer to meet our customer's needs. Ja‐Co Welding has manufactured large structural buildings, such as Camrose High School and Ritchie Brothers. As well as skids, stairs, platforms, gas plants, etc.
Machining
Ja-Co Welding's Machine Shop has over 17,000 square feet of combined shop and office space. This shop is API 6A, 8C, 16A, 16C certified. We are capable of manufacturing a wide range of items for drilling rigs; such as pins, rollers, hinges, flanges, spools and sheaves, just to name a few.
Equipment Capabilities
Custom Plate & Waterjet Cutting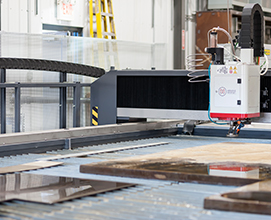 Equipment Capabilities


Material Processing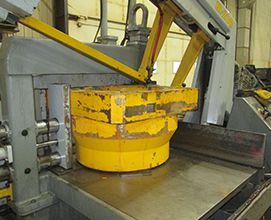 Ja-Co Welding., is pleased to provide our customers with complete steel processing capabilities. Our services include, but are not limited to: cutting, beveling, threading, drilling, oxy-fuel cutting, plasma cutting and water jet cutting.
Custom Cabinets & Tanks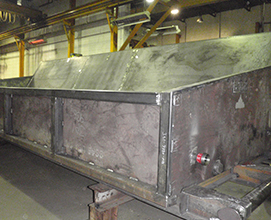 At Ja-Co Welding, we are able to custom manufacture a multitude of items. We have done work such as custom benches, lockers, tables, tool boards, cabinets and more. All of our custom work is done to meet our customer's standards and requirements. We also manufacture Oilfield Tanks such as TC44 Fuel Tanks, Hydraulic Tanks and Oil Tanks.